Make
Better
Energy
Decisions
We help organisations around the world improve sustainability, save time and reduce costs with our all-in-one energy and sustainability management platform.
Get started in seconds, no hardware required.
Improve Sustainability
Reduce Carbon emissions in your organisation across scope 1, 2 and 3. Better plan, roll out and track targets for energy efficiency, renewables, energy storage and behaviour awareness projects.
Save Time
Focus on getting RESULTS, not gathering, cleaning, analysing and reporting data. Automate your carbon and energy data creation, collection and analysis using our powerful automation tools and expert support.
Reduce Costs
Find instant savings, track paybacks and bring transparency back to your energy/utility costs and sustainability projects. Eliminate penalty charges, contract issues and make better long term investment decisions.
Trusted globally by organisations focused on sustainability
How it works
People using EnergyElephant often tell us they were amazed by how quickly they saw positive results. Get a sense of how the magic happens through our short, one minute explainer video.
If that's not enough, you can see more detailed information here.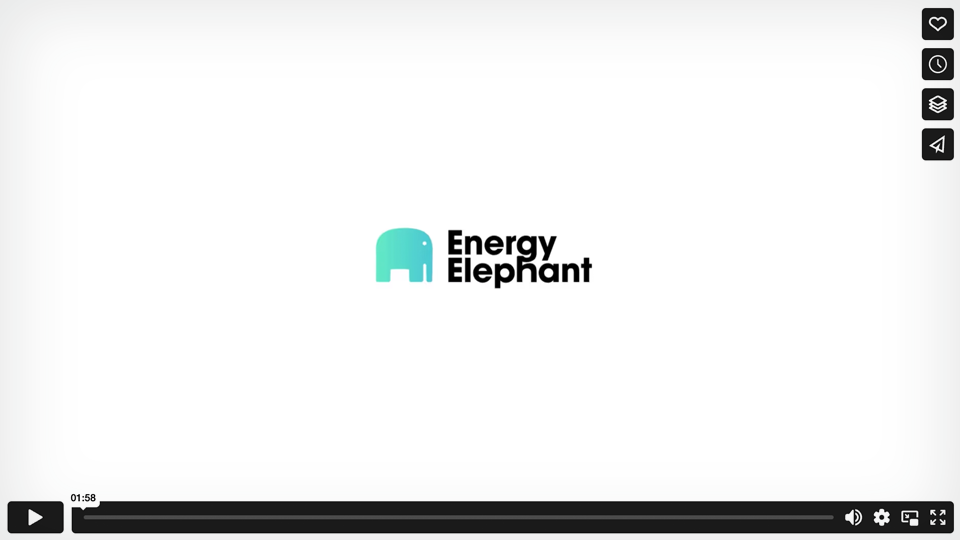 Learn more about how we support different business sectors
Universities
Tech companies
Multinationals
Public sector
Energy management agencies
Retail
Banking & financial services
Real estate
Other use cases?
We can help you to be more sustainable, save time and reduce costs. Get in touch to let us know what you need.
Some of our key features and modules
Simple but Powerful Dashboards
For Executive level reporting and faster analysis our main dashboards act as a mission control for you to dive into your data quickly, showing the results of your projects and highlighting action areas.
Share dashboards with on the ground managers to decentralise ownership, action and responsibility. Track progress and communicate widely for better behaviour campaigns.
All-in-one location for cost, usage and carbon overview.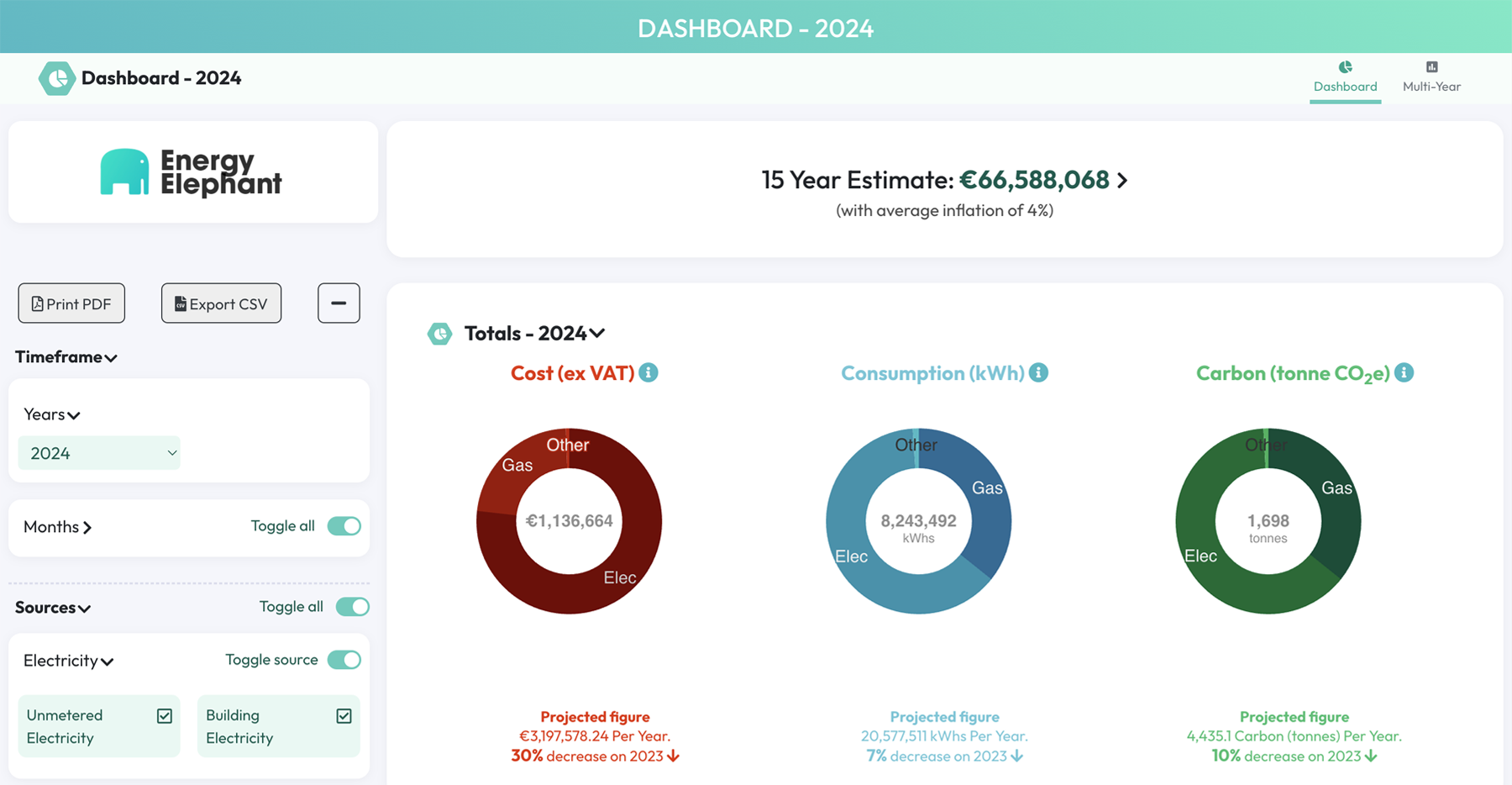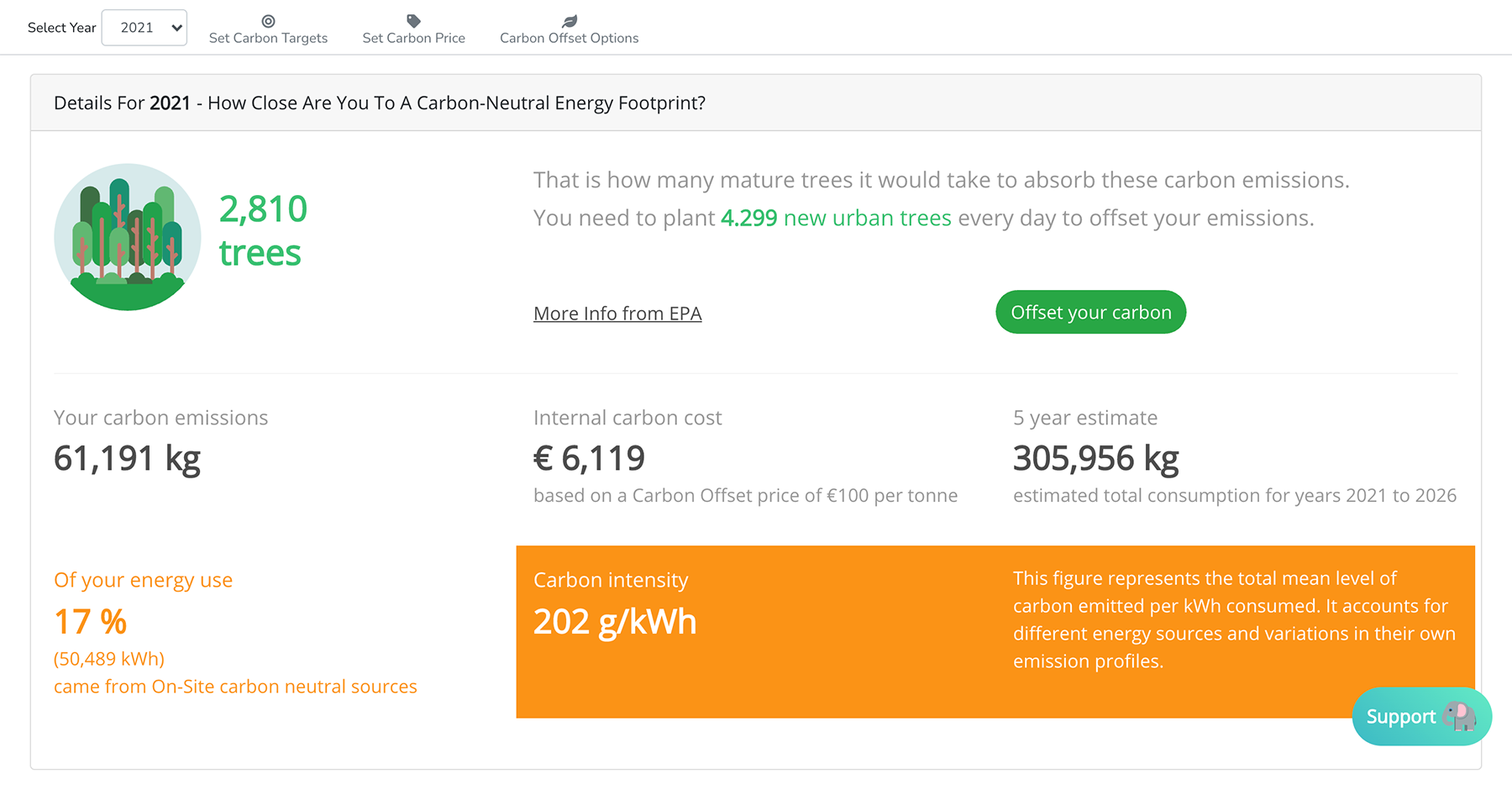 Carbon Reporting (Scope 1, 2 & 3)
Monitor and report on carbon and greenhouse gas (GHG) emissions across your organisation for Scope 1, Scope 2 and those difficult to calculate Scope 3 emissions.
We focus on giving you the most scientifically accurate ways to collect and report on carbon across your organisation using numerous methodologies (covering the Greenhouse Gas Protocol, Net Zero, Carbon Disclosure Project, GRESB and TCFD) including using real-time grid emission factors.
A single source of truth to set targets at a company, business unit or even building/asset level quickly and easily.
Energy Management System (EnMS) and targeting for
ISO 50001
Create, organize, analyze and report on your continually improving energy performance by automating your data management.
Create, track and set targets for your SEUs (significant energy users) and smaller usage points across your organisation including buildings, vehicles and other assets.
Identify saving opportunities and problem areas quickly across your portfolio of meters and consumption points.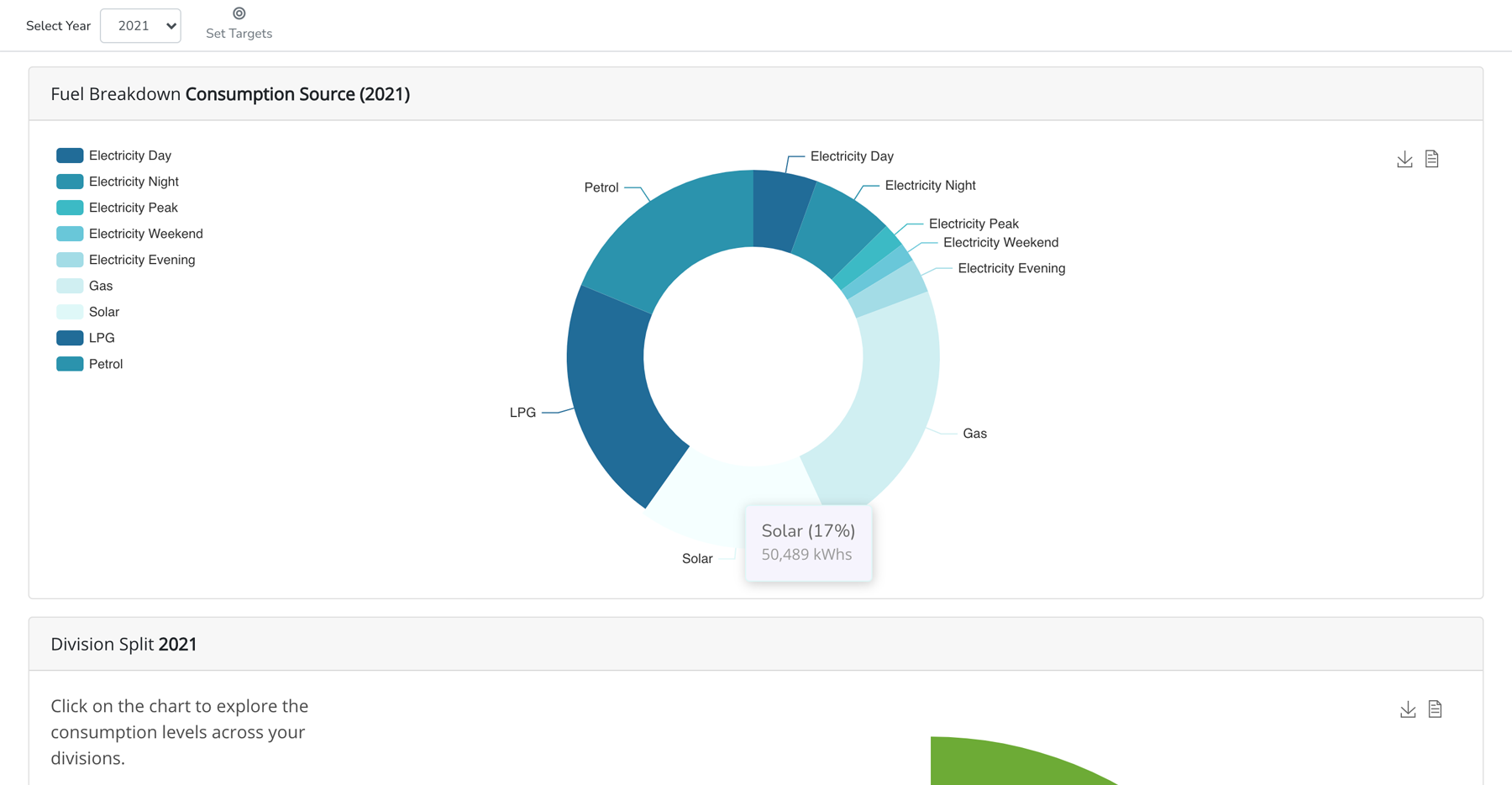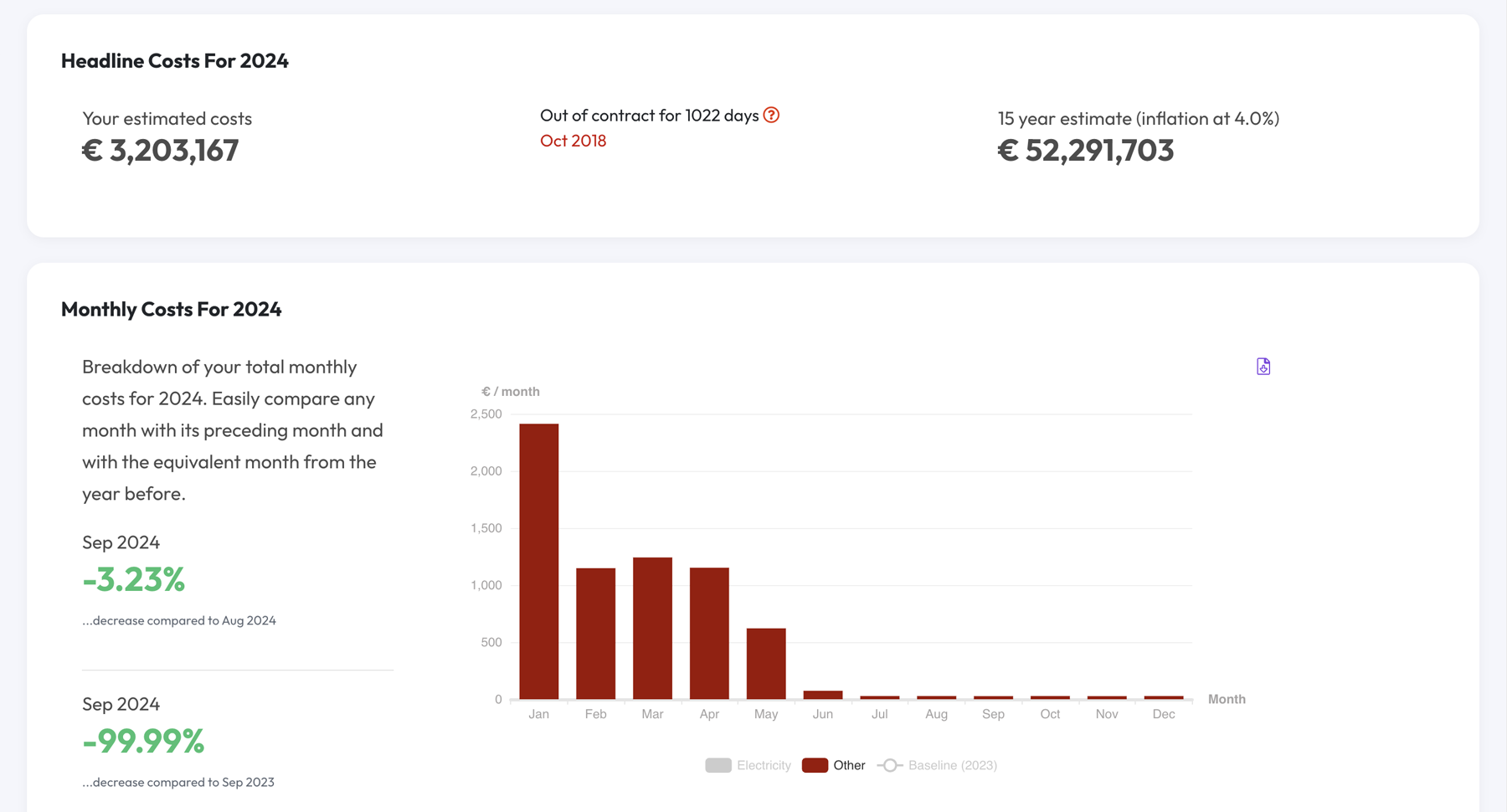 Cost Management & Savings
Find instant saving opportunities across where you spend your budgets on energy, waste, water and carbon by tracking unit rates and with automated bill validation and procurement supports.
Projections and analysis of spend and budgets across your energy, waste, water and transport categories.
Set internal carbon prices to project future impacts of carbon taxes/pricing.
What some of our customers are saying
Multinationals
"This software is really user friendly. One of the best features is its ability to identify potential cost savings."
Universities
"Easy to use, easy to understand and easy to extract energy data. It does exactly what we need it to do."
Public Sector Agencies
"The experience has been very good, it's easy to use and the customer support has probably been one of the best I have dealt with."