Virtual Energy Audit
An energy audit can save you money, identify energy waste and improve your sustainability as well as reduce carbon emissions.
EnergyElephant's Virtual Energy Audit can help organizations simplify the process and get on track towards carbon neutrality.
Get Started
Why carry out An energy audit?
Understand energy use
Learn about how energy is used in your organization, to prevent waste and become more efficient.
Save money
Identify the changes you can make to achieve cost savings now and into the future.
Reduce risk
Limit your exposure to energy price volatility and increasing carbon taxes/prices and secure your energy supply into the future.
Enhance your brand
Tell a sustainable story about your organization based on green leadership and measurable change.
How does a virtual audit work?
It really is simple to carry out a virtual energy audit using EnergyElephant's smart analytics platform.
To begin, grab original, electronic copies of your energy bills (ideally covering the past 2 years).
Create an account and follow the instructions to upload your bills.
Sit back and let EnergyElephant do the rest.
You'll be amazed at how easy it is to see when and where you are using your energy and how much it is costing you.
What do you get?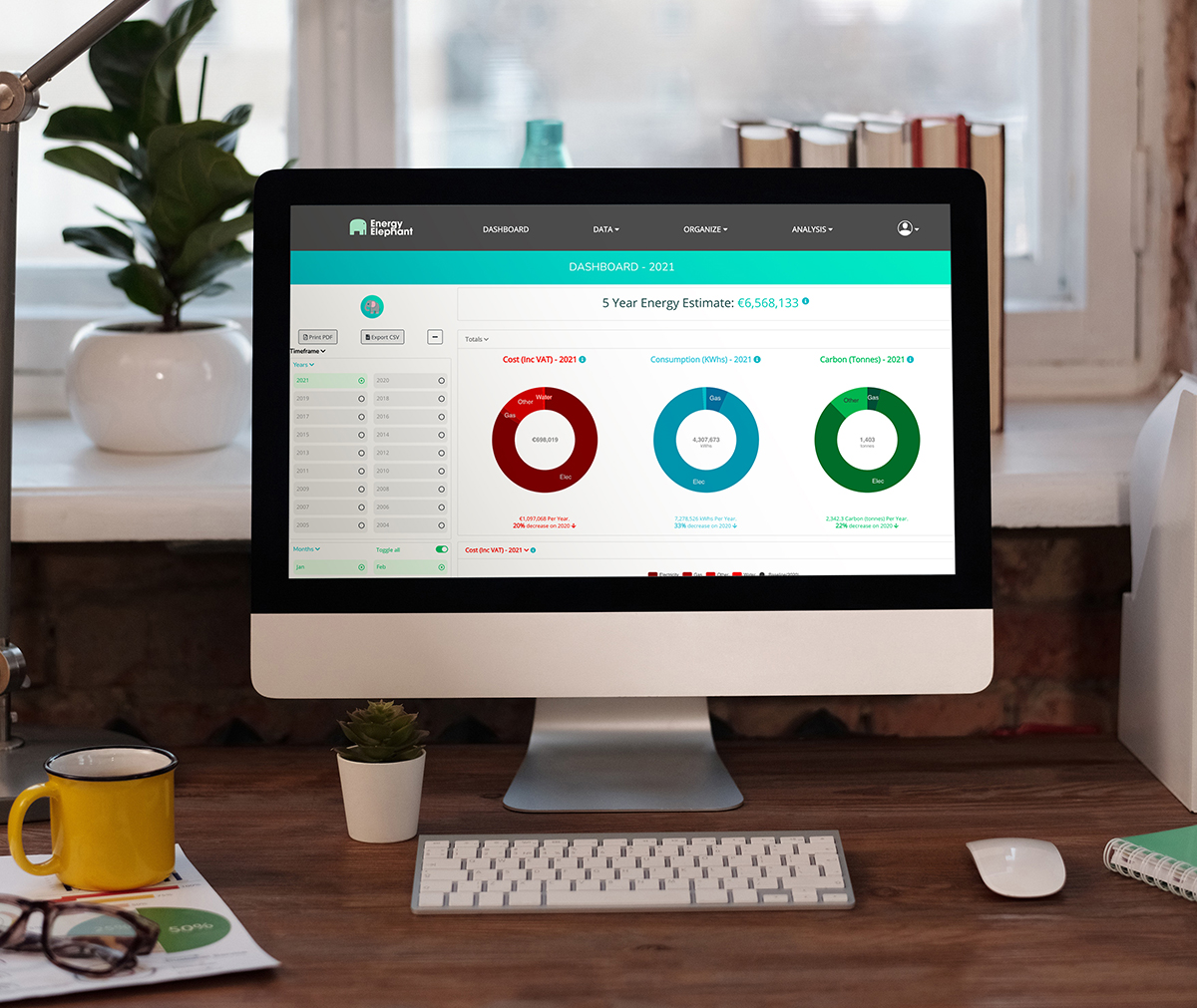 Your uploaded bills will be analysed and the data made available in an energy and carbon dashboard. This will provide an overview of how much you are spending, how you are using energy and how much carbon you are emitting. Our smart energy analytics also compensates for changes in outdoor temperatures by providing degree day regression analysis for thermal fuels.
We can also provide other support services such as checking your rates are competitive, assessing your capacity against actual usage, checking your capacity against max demand levels, warning you when discount periods end, advising on night rate usage, upgrading metering types, advising on time of use tariffs, smart metering opportunities, smartable demand, demand management systems and seasonality changes.
A management system
By centralising your energy data within EnergyElephant, you are implementing a structured and verifiable management system compatible with ISO 50001.
Through the platform you can coordinate with people across your organization and ensure that everyone is working from the same data.
Cost projections
EnergyElephant provides an easy to use cost estimate tool that enables you to predict your future energy costs based on your current consumption and historic spend/unit rates.
Project Opportunities
For each building and asset in your organization, EnergyElephant provides an opportunity register of the best projects that can be undertaken to improve the energy and sustainability performance of that asset.