Our 4-Gets process
How it works
At EnergyElephant we combine simple to use software with our easy to follow "4 Gets" process, to help you improve sustainability, reduce costs and save time.
See below how an Elephant never 4Gets.
Automated Data Collection
You don't want to spend your time checking if people have uploaded the latest data, which is why we have automated the whole process.
Data is automatically retrieved by EnergyElephant from smart meters and sensors, supplier portals, business intelligence systems and APIs.
Bill Processing & Validation
EnergyElephant processes data out of bills so that you don't have to. Automated systems also validate the data to detect issues and anomalies, flagging estimated bills and letting you know when there is something you should investigate.
As well as common-sense checks against expected consumption and cost, bills are also validated against local regulatory and tax data.
Data cleaning & standardisation
EnergyElephant's data analytics pipeline applies a rigorous cleaning and standardisation to inbound data before centralising it in custom cloud databases.
This means that no matter which company is your current provider of energy, water or other services, your data is easily and always accessible and in formats that enable comparison and align with key reporting requirements.
Improve sustainability across energy, waste, water & carbon
No matter the size of your organisation, it's important to be able to see how each asset is performing and to quickly identify those using significant levels of resources so that they can be targeted with efficiency improvements.
EnergyElephant provides that universal picture as well as enabling you to dive down to the specific meters and sensors deployed on an asset, to see exactly what they are doing.
Reduce costs and identify opportunities
For any organization, getting a return on investment (RoI) from projects is essential. As energy and carbon costs increase and become more volatile, it is essential businesses and organizations check every area for saving opportunities.
EnergyElephant helps by highlighting cost saving opportunities, tracking unit rates/contract periods, identifying zero usage meters and penalty charges, showing wastage patterns and helping purchasing/procurement teams.
Budgets, Benchmarks, Baselines & Projections
EnergyElephant helps you create your energy tracking baselines and benchmarks you against peers and best in class.
The platform also provides monitoring and verification (M&V) tools to track performance against benchmarks and your own internal targets over time.
Small steps & giant leaps
For each building, vehicle or other asset in your organisation, EnergyElephant identifies and recommends project opportunities that will help improve sustainability with measurable results.
As well as identifying the opportunities, EnergyElephant's custom analytics tools provide the means to assessing which projects should be prioritised and their performance against organisational targets.
Develop A Smart Opportunity Register
One of the first steps for any organization in creating a climate action plan is to highlight the projects completed and those considered but not yet done. It is also important to think of both short term and longer term projects.
EnergyElephant's smart opportunity register helps in two ways.
It helps identify projects which should be assessed for their effectiveness and payback.
It tracks the current status of projects considered, completed or rejected.
Divisions, Personal Collections & Realtime Emissions
Assigning ownership and responsibility for actions and assets can be difficult, especially in larger organizations with multiple assets, buildings and staff. Using the most accurate carbon emissions for science based targets can also be confusing.
EnergyElephant structures data into groups call Divisions, which should reflect an organization's structure across business units. Owners can then be assigned to specific Divisions. It also allow a high degree of flexibility by allowing users create personal collections for once off analysis or unusual data groupings as well as use real time grid emission factors or other reporting. frameworks where required.
Set and track targets
Setting targets can help focus efforts within your organisation on improving efficiency and trigger positive changes in practice and process.
Set energy efficiency, carbon reduction and sustainability targets across your organisation and assets, with baselines calculated against your historic performance and progress tracked in realtime.
Act quickly to resolve issues
Sometimes it is the small things that end up leading to the biggest improvements or costs. Getting data and acting on it in a timely manner is essential for good management.
EnergyElephant focuses on getting these insights to users quickly and effectively, whether it be a meter point falling out of contract with a supplier, through to an unusual pattern of usage based on meter readings/sensors.
Keep teams motivated and up to speed
Great teams need great tools. Green teams, facility team and C suite managers all want fast, effective, simple to use tools.
Giving teams access to EnergyElephant gives them a motivational tool as well as a deep corporate knowledge base to build and learn from today and into the future.
Save time
Automated Data Processing
Data is extracted automatically, and immediately available for analysis. This saves time, and avoids tedious and error prone data entry.
Bill Validation
EnergyElephant's automated bill validation detects a wide range of bill issues. Each bill is validated both in isolation, and in conjunction with other data, such as other Bills for the same Meter Point & Interval Data where available. As well as self contained validation, bills are also validated against known regulatory and tax data.
Instant Energy Insights
EnergyElephant can provide instant energy audits and assessments, with insights proven to reduce costs & consumption.
Reduce costs
Find cheaper suppliers
EnergyElephant checks your unit rates against competitive rates in the market based on your actual usage.
Fuel switching
EnergyElephant can show you which energy sources are cheaper to use such as night rate electricity versus gas.
Avoid losing discounts
EnergyElephant checks to see how long your discounts last and when its time to switch or renegotiate your contract.
Easy & Safe
All Your Data Accessible Always
EnergyElephant keeps all your energy data save and secure in the cloud, meaning you'll always have access when you need it.
Supplier Agnostic
With EnergyElephant you can change your supplier whenever you want, safe in the knowledge your energy data's secure and accessible.
100% Transparent
Generally energy bills are difficult to understand. We cut through the data and turn it into useful, understandable information.
Manage risk
Supplier choice
Choosing the right energy supplier is hard. We make it easy by showing you how much you can save based on your usage.
Renewable energy
Will that solar panel really save you money or should you go with a biomass boiler? We put the key information at your fingertips.
Energy upgrades
Whether it's insulation or boiler control upgrades, you'll see the before and after effects of your investment decisions.
Sustainability
Carbon footprint
We show you your carbon footprint based on your actual energy use and the grid associated emissions at the time of use.
Renewable energy
Should you invest in renewables? We can help you identify which renewables might be most effective for you.
Resource use
Reducing the use of non-renewable sources of energy is critical to the transition to a low carbon economy.
Smart Decisions
Staff engagement
Educating staff on how to use energy more efficiently & reduce waste is one of the hardest but most worthwhile measures.
Benchmarking & baselines
We help create your energy tracking baselines and benchmark you against peers and best in class.
Monitoring & Verification (M&V)
M&V is critical if results of energy upgrades, storage (such as Tesla Powerwall) and renewable deployment are to pay off.
How it works
People using EnergyElephant often tell us they were amazed by how quickly they saw positive results. Get a sense of how the magic happens through our short, one minute explainer video.
If that's not enough, you can see more detailed information here.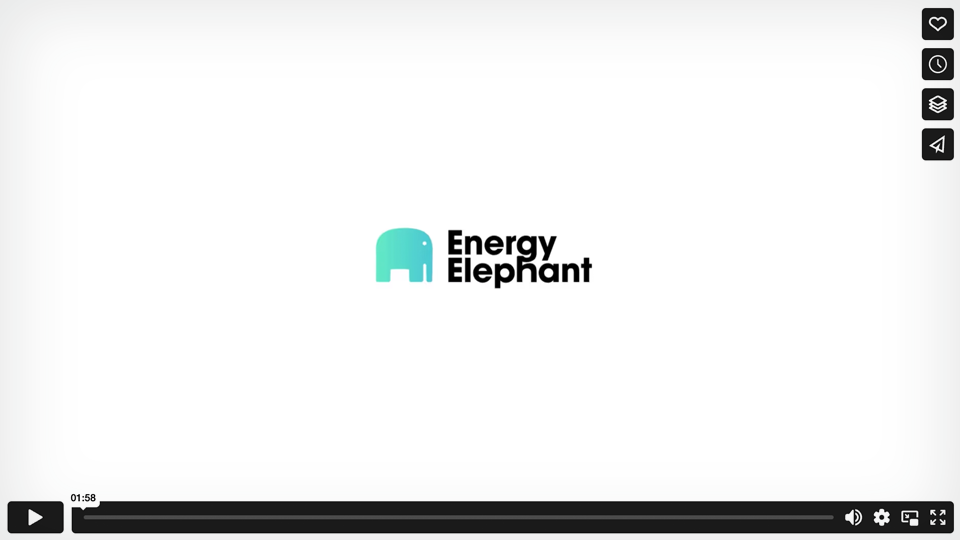 Facility Manager Features
One key mantra of any management system is "if it's not measured, it's not managed".
EnergyElephant measures all your energy use and displays it in easy to use and understand graphs so you don't need to muck around in spreadsheets or difficult to use online tools any more.
Track & Visualise
Quarterly Reports
Annual Audits
Peer Comparison
Detailed Interval Data
Import Historic Data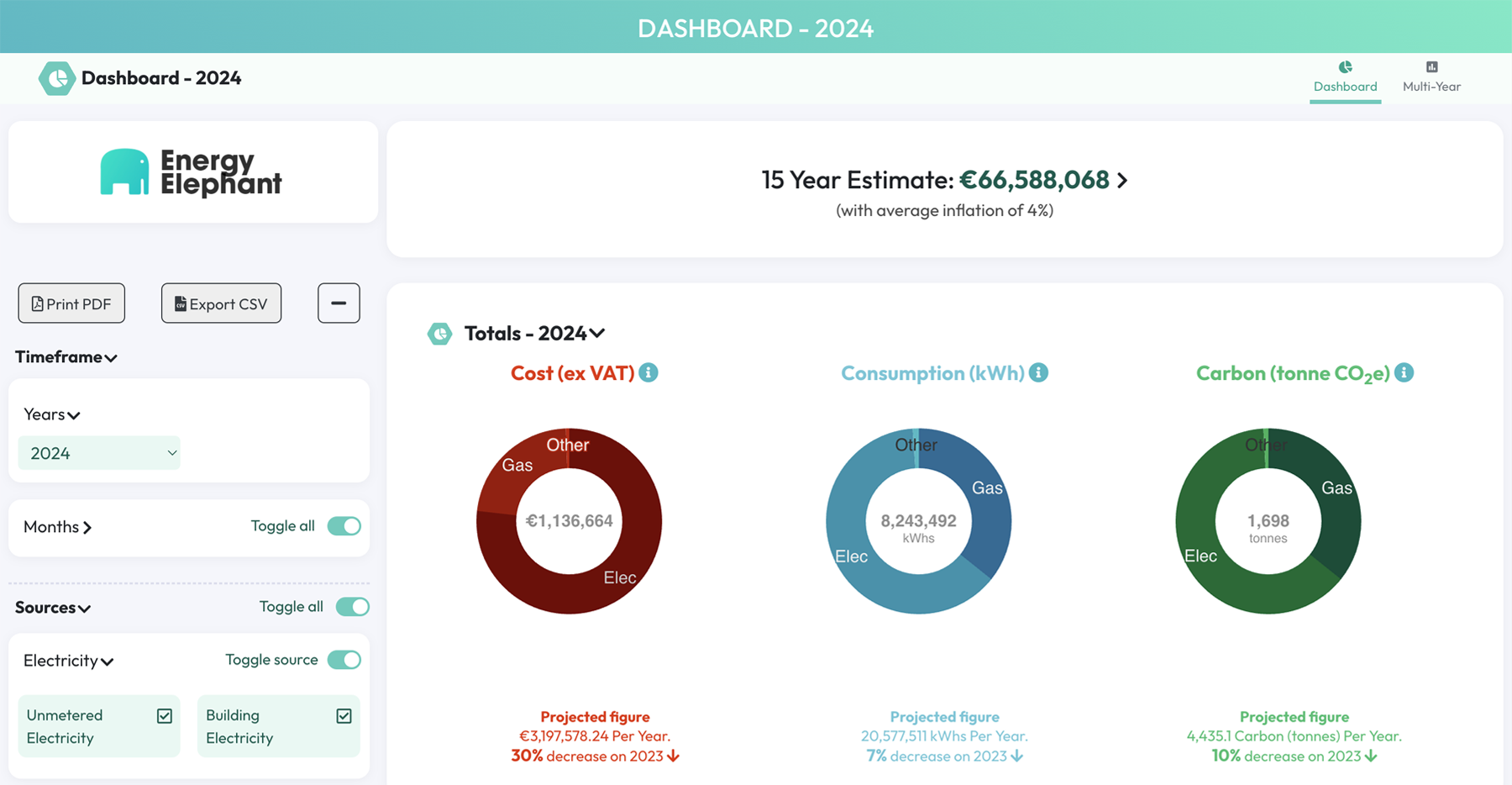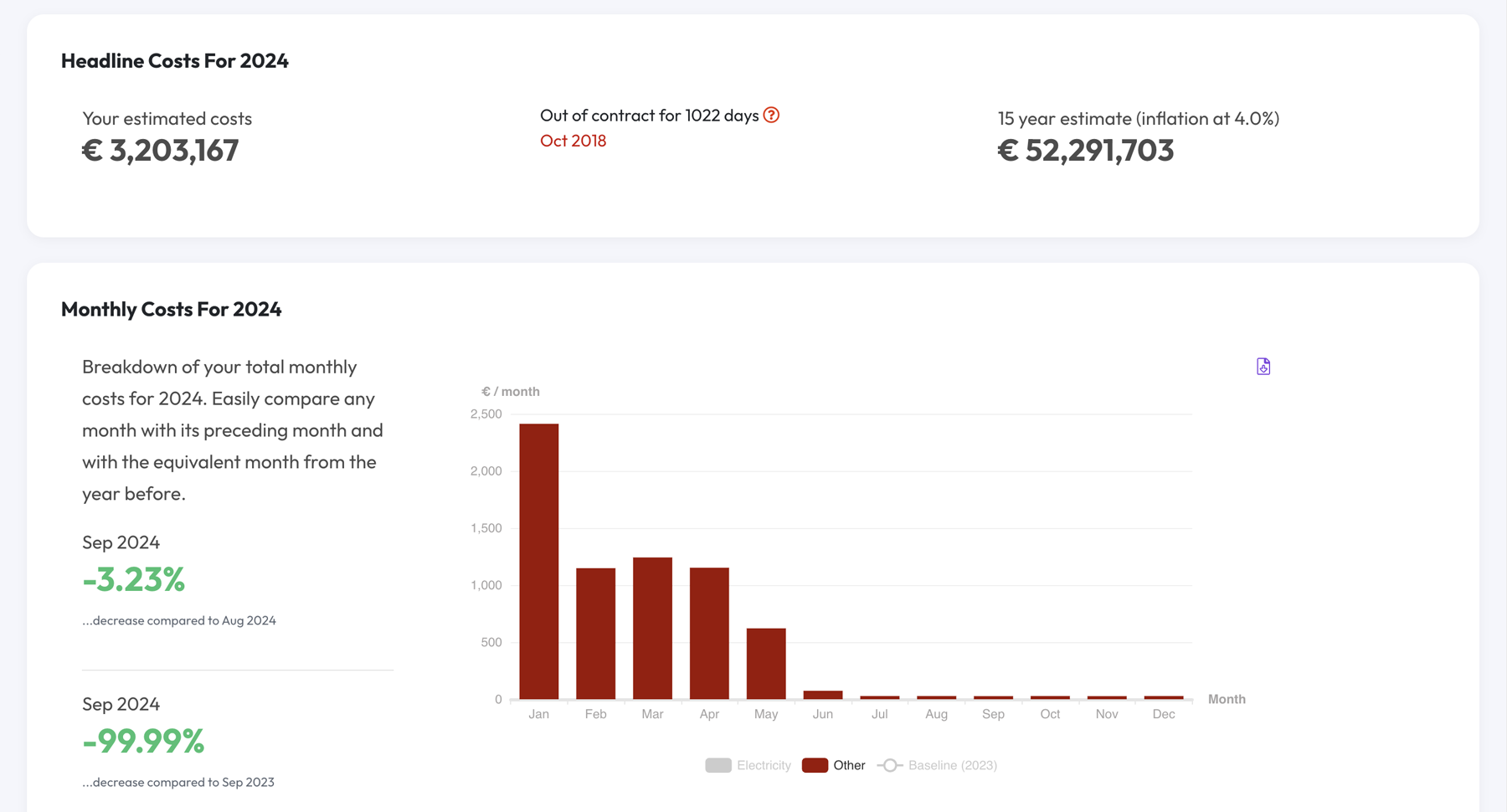 Purchasing Team Features
Making decisions on who should supply your electricity or gas should be easy. EnergyElephant makes your energy costs transparent and easy to understand, giving you budget certainty.
Energy Tariff Analysis
Spend Forecast
Help Selecting Tariffs
Improve Bill Accuracy
Full Training & Support
Financial Controller Features
Accounting for your business's energy costs is getting more difficult and making investment decisions more risky. Get the inside track on your energy data and ROI for renewable and energy efficiency projects.
Budget Planner
One Central Location
Identify Dormant Accounts
Support for ROI
Asset Performance Monitoring
Reduce Excess Cost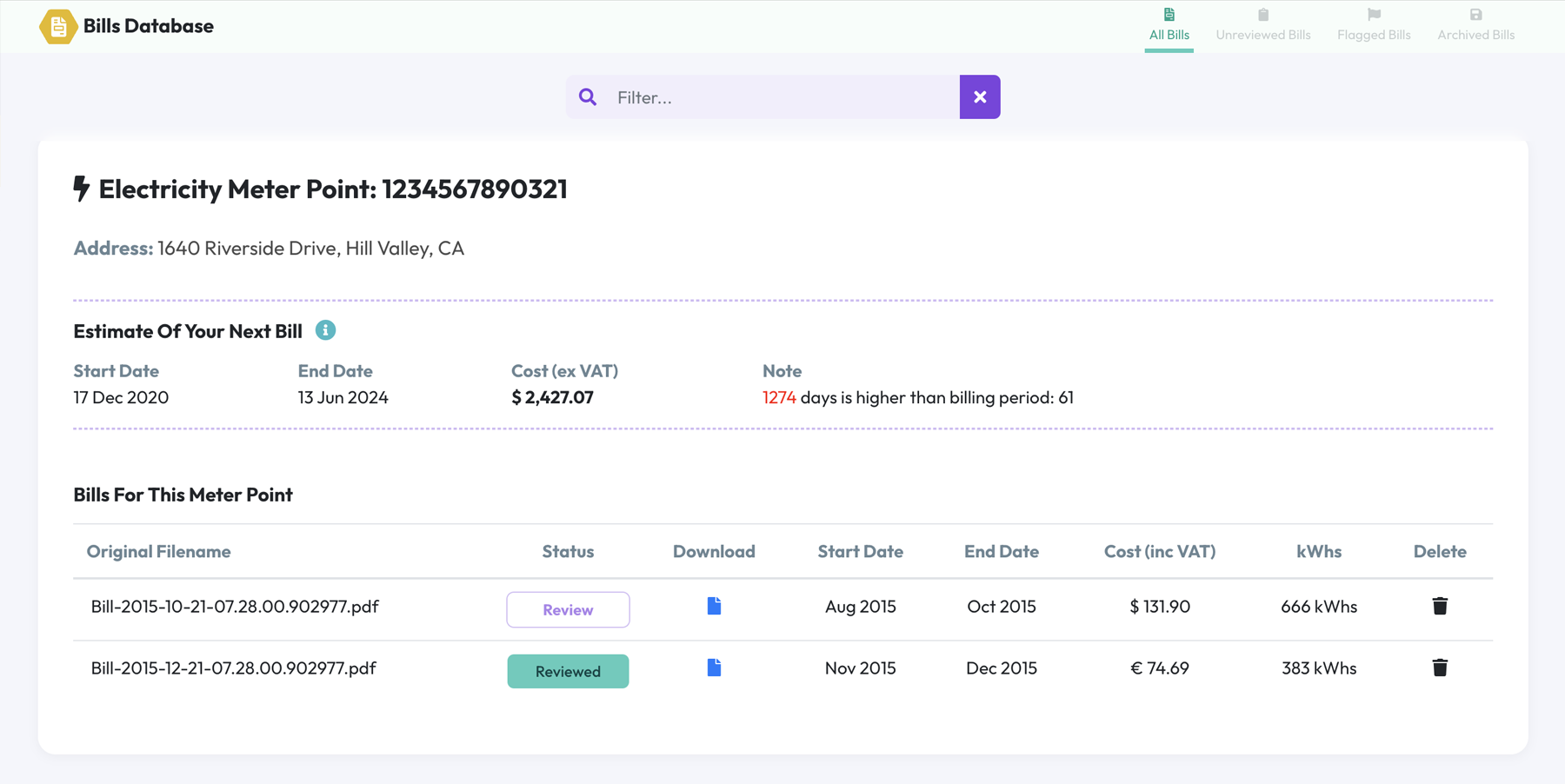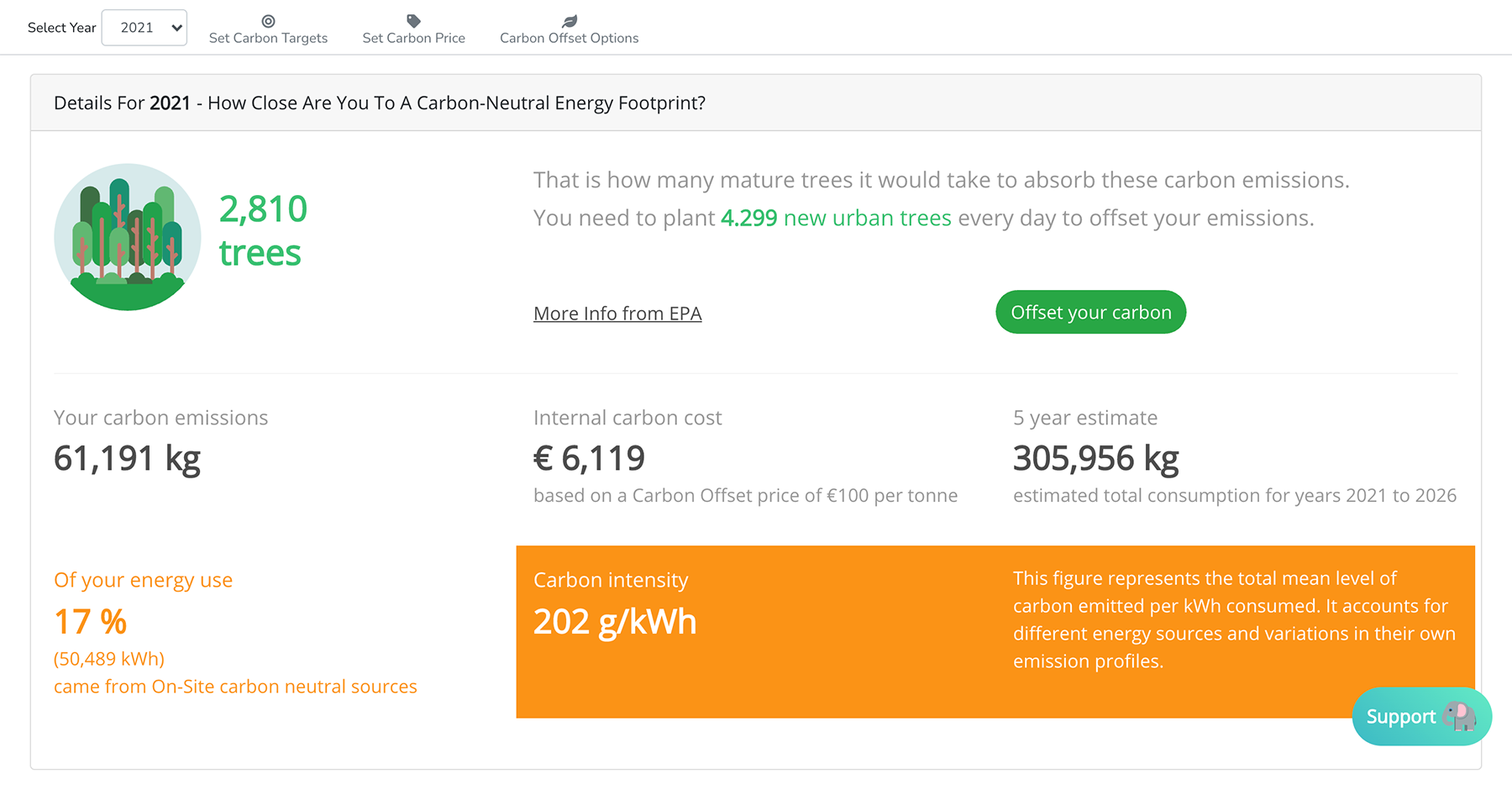 Sustainability & CSR Manager Features
Businesses are coming under increased pressure to show how they tackle sustainability and environmental impacts. Making the transition to becoming Low Carbon is critical to this journey.
GHG Tracking
Strategic Overviews
Carbon Footprint
CSR Reporting
Validation of Results
Best in Class